For all those wonder-moms who need some ideas on what and how to feed your toddler. Use these sample toddler meal plan and tips on healthy eating which might help you to feed your little ones with a smile.
A toddler can eat a variety of healthy foods. Always give your toddlers the same foods that the rest of the family eats. Toddlers are very choosy so always offer them the variety of different tastes and textures. Most importantly try to include different colors in the daily food items of your toddler meal plan.
Most people ask or search on google on how much a toddler should eat? Trust me! There is no such parameter for the same. A toddler can eat according to his or her appetite. Do not force your kid to eat more or do not restrict also if they are eating well. It's totally their choices not moms. Sometimes they eat more and sometimes they eat less, it's perfectly fine.
Try this easy sample toddler meal plan for a healthy toddler:
 

TODDLER MEAL PLAN

 

TIME
MEAL
FOOD
NUTRITIOUS VALUE

7:00 TO 7:30

MORNING

2 ALMONDS (SOAKED)

1 CUP MILK WITH 2-4 BISCUITS/ MILK CORNFLAKES

IRON, CARBOHYDRATES, MINERAL, CALCIUM

8:00 TO 8:30

BREAKFAST

EGG SANDWICH OR VEGETABLE SANDWICH OF WHEAT BREAD WITH BANANA / APPLE

OR

VEG CUTLET / LOBIA WITH BREAD

CARBOHYDRATES, VITAMIN, FAT

10.30 TO 11:00

LUNCH BOX

2 IDLI WITH COCONUT CHUTNEY / 1 UTTAPAM / 1 BOWL POHA

CARBOHYDRATES

12:30 TO 1:00

AFTER SCHOOL HOURS

1 CUP SOUP (TOMATO WITH MIX VEGGIES) OR HALF CUP CURD WITH MIX FRUITS

PROTEIN, VITAMIN ANTIOXIDANTS

3.00 TO 3:30

LUNCH

PALAK PANEER WITH CHAPATI OR VEGETABLE KHICHDI

PROTEIN, FAT CARBOHYDRATES

5:00 TO 5:30

EVENING SNACKS

MILKSHAKES OF ANY FRUIT FLAVOURS (SOUP) OR 2 TOASTS WITH PEANUT BUTTER / VEG VERMICELLI

CALCIUM, PROTEIN

7:00 TO 8:00

DINNER

1/2 CUP COOKED BROWN RICE WITH 1 CUP DAAL OR 1/4 CUP BROCCOLI VEG DALIA

MINERALS, IRON, CARBOHYDRATES

9:00 TO 9:30

LATE NIGHT

MILK WITH PINCH OF TURMERIC

CALCIUM, ANTIOXIDANTS, PROTEIN
This toddler meal plan is designed in such a way that it encourages healthy eating. We should always direct our kids towards healthy habits. Early childhood is an important time to establish healthy eating patterns. A balanced diet always leads to a healthy body and mind. Our food should always provide nutrients which helps in the growth of the toddlers.
Feeding tips for toddlers:
Always offer food and snacks at the same time each day.

Try to give healthy food prepared at home. Outside food can't be healthy every time.

Always tell your child what is healthy and unhealthy.

Keep healthy food handy, children will eat what's available.

Allow your toddler to decide how much to eat, don't ever force.

Keep offering new food.

Try to keep mealtime relaxed and happy.

Always turn off the screen distractions like tv, mobile, tabs, etc. so that they can focus on the meal.
Some Feeding Warnings: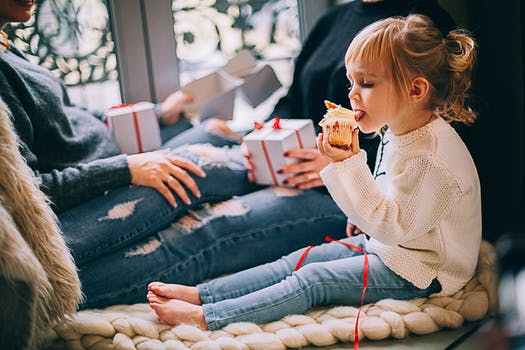 Avoid giving sweets and sugar to your toddlers. Even if you want to offer some then please give healthy options such as fruits, homemade sweets, and jaggery.

Do not give your child sweetened drinks. They will fill up their tummy and no space will be left for healthy foods.

The low-fat diet is not recommended for toddlers as it can result in poor growth.
EXPERIENCE THE HEALTHY PARENTING, THE HEALTHY WAY!
Author: Richa AG | Mommy Blogger | SAHM
Have more tips to add for a healthy toddler meal plan? Please share with us in the comments section below.
Wish you a very Happy and Healthy Parenting!