Ganesh Chaturthi marks the beginning of ten days of joy and happiness. It is the birth anniversary of Lord Ganesha. He is widely worshipped as the God of Wisdom and Prosperity.
All of us get excited to welcome Ganpati Bappa with zeal and fervor. This festival is celebrated with maximum fanfare for ten days. So, people decorate their houses and prepare the main sweet dish 'Modak'. Modak is a sweet dumpling made from wheat or rice flour with a stuffing of dry fruits, jaggery, and coconut.
Also Read: Is fasting healthy?
Grand tent structures are beautifully made and adorned idols of Lord Ganesha are placed in them. People celebrate this festival for ten days and on the eleventh-day idols are taken in a procession. And the procession is accompanied by dancing and singing and the idols are finally immersed in a river or sea.
This exciting time of festivity also brings knowledge and wisdom to children.  So, here are a few traits of Lord Ganesha from which we can learn to live a happy life.
Also Read: How to teach kids optimism?
8 Qualities of Lord Ganesha
Wisdom
The big head of the lord signifies the wisdom. It teaches us to grasp more knowledge and think big to have a better understanding of life. Similarly, it helps in gaining excellence and wisdom to achieve brilliance in life.
Better Listening
Ever wondered why Lord Ganesh has big ears and also known as 'Surpakarna'. He is a good listener and being a good listener helps us to analyze any situation in a better way without being judgmental. It teaches us patience and effective communication skills. It is an important quality that needs to be instilled in everyone for decision-making. Always listen more than you speak.
Humility
Lord Ganesha teaches us to be humble and grounded irrespective of power and wealth one acquires. The mighty lord has a tiny mouse as his vehicle, also known as 'mooshak'. There should be love and respect even for the smallest creatures. Consequently, it will help us to imbibe and get a respectable position in life.
Endurance
His big and round stomach also signifies an important trait. It shows his ability to endure all the obstacles in life and manage them wisely. This is the reason he is also recognized by the name of 'Vighnaharta' – destroyer of all obstacles. His big belly represents total acceptance and generosity. Hence, we should peacefully digest all good and bad in life.
Maintain Balance
Observe his one feet rests on the ground and another is folded. It teaches us to maintain balance in our life between inner happiness and materialistic happiness. To lead a contented and happy life, one needs to maintain a balance between material and spiritual needs.
Responsibility
All of us are familiar with the story of Lord Shiva beheading Ganesha. This story teaches us to be responsible. Our duty is above everything else. Lord Ganesh sacrificed his head for the responsibility his mother gave him.
Never Give Up
When the learned sage Vyasa was dictating Mahabharata to Lord Ganesh, his pen broke but he did not give up. He broke his tusk and continued to write without stopping. And, it also teaches us to make the best of what we have.
Art of Forgiveness
The famous story of the snake, moon, and Lord Ganesh teaches us to be kind and forgive others. Similarly, we should forgive those who ask for forgiveness.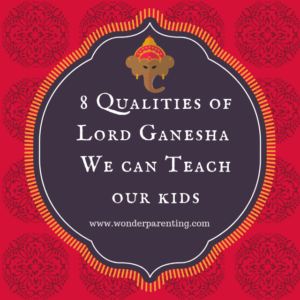 May this festival brings a lot of happiness and fun for you and your children through these teachings of Lord Ganesha.
Wish you a very Happy Ganesh Chaturthi and Happy Parenting!